Coombe Cup Returns to Ashford
The Ladies Triumph in Final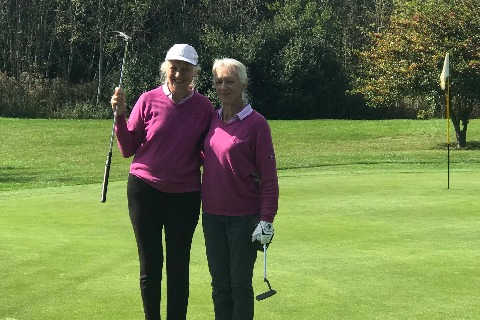 Corrie Butcher and Karen Pickering of Ashford Golf Club won the final of the Coombe Cup at Bearsted Golf Club on Monday, 24th September. They had to give 5 shots to their opponents, Sally Stowell and Wendy Turner from Wrotham Heath Golf Club.

The match was watched by many loyal fans from both clubs and the ladies, not used to spectators, started off nervously but the Ashford pair played more
consistent golf and won 5 and 4. Both teams had started their campaign in March winning 5 matches to reach the final.
'Also, a big thank you to Sal Sheringham for her organisation of the Coombe Cup for Ashford and cheering us on through all the months of the competition.'

Ninety players from all around the county competed in this foursomes Kent competition for ladies over 68 years of age.